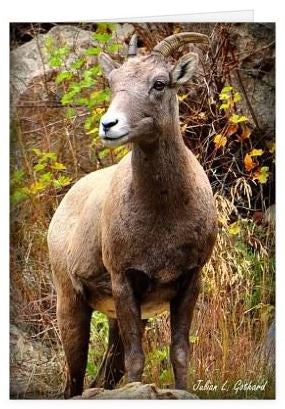 Bighorn on the Lookout Greetings Card
Bighorn Sheep (Ovis Canadensis), Clear Creek County, CO. Card Inscription: "Eagerly I marked the flowing undulations of their firm, braided muscles, their strong legs, ears, eyes, heads, their graceful rounded necks, the colour of their hair, and the bold, upsweeping curves of their noble horns." [John Muir] Cellophane wrapped matte 5x7 card & envelope. 
There are a number of bighorn sheep viewing areas in Colorado including Georgetown on the I70, Rocky Mountain National Park and also the Clear Creek and North Clear Creek Canyons near Black Hawk.